Product
is added to your cart!
PROFILE


It all started with a ladybug.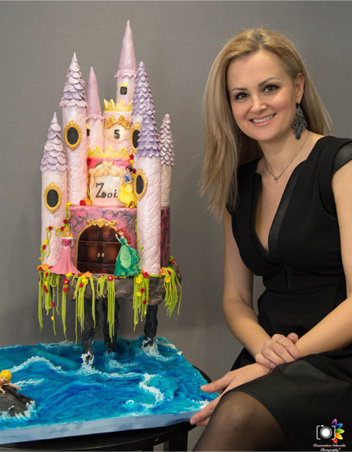 For 20 years I worked in Greece in the tourist industry. When I came to Switzerland, my daughter asked me in 2014 for her third birthday a ladybug! Since then I kept making cakes for my children and friends. All my friends told me to make a profession out of my hobby, sugar art. I fell in love with sugar paste and all the other elements of a beautiful cake, from the first moment I worked with them. This was the beginning of a completely new career. Since September 2015 I started my own small business from home.
The art of sugarpaste is almost inexhaustible. It gives shape to imaginary microcosms, characters, roles, and images.

This is what fascinates and enchants me! My concern is to enrich my work constantly with new techniques in order to offer you the best I can. For me each cake should be a nice surprise both in appearance and taste, because
my motto is that a cake should be beautiful outside and tasty inside.


The cakes are made with only the best stuff. I use free-range eggs and organic milk. I do not use any pre-mixed or otherwise already prepared ingredients. I make everything on my own: sponge cakes, creams, mousses, etc etc. The cakes are absolutely fresh, made just for each order.



Dimitra Milona
Κράτα το
Κράτα το
Κράτα το
Κράτα το
Κράτα το
Κράτα το